Dr. Veena K. Arora is a reputed image consultant, thought leader, trainer, healer, counselor, and teacher in Jaipur. She is one of the Directors of Triumph through Training (3T) & Founder of Haven for Holistic Healing (3H).
Well, Indian Women Blog with an extensive list of questions and queries of professional women, students, and homemakers, met her.
The painting in the background was as beautiful as her sari and her smile. As we settled to begin, I could already feel the positive energy in and around me.
Me: Good Morning Ma'am. Tell us about yourself and your work.
Veena (smiles): I have been training and mentoring people since 1991. Earlier, I was in the hospitality industry and held the position of HR Head of a 5-star property chain. The package was good, and the perks were great. But, a few years ago, I felt the need to start something of my own. It was a difficult time as everyone thought that it would be a mistake to quit such a high positioned job to start a business. But, I was determined. I knew what would make me happy. I was willing to take that risk for my happiness. And that's when I started with 3T, three years ago.
Me: Wow, that's commendable. So, what all does the 3T, Triumph Through Training involves and offers?
Veena: We are a pool of trainers who train professionals, individuals, students, the staff of corporates, government organizations, etc. Also, I have started with 3H, Haven for Holistic Healing, to help people especially women, to accelerate their growth and attain their true potential by eradicating any obstacles and hindrances of body and mind through connecting with the divine.
Me: That's great ma'am, I am intrigued. Tell us the modern day problems of women and their solutions.
Veena: Most women who come to me are struggling with the work-life balance. Firstly, it's important for every woman to know what all she has to manage. I call it 4 R's. Every woman has to balance:
1. Roles of being a daughter, a sister, a professional, and later in life, roles of wife, mother and so on.
2. Responsibilities that are inherent in the roles she acquires.
3. Relationships with the family, colleagues, boss, and even with the maids, tutors of children, etc. And she even has to take care of her relationship with herself.
4.Resources – she has to utilize the limited resources optimally with her.
Every woman has to balance all these things in life simultaneously, EVERY DAY!
For this, I advise every woman,
1. Enhance your relationship with self and God through any form of meditation. It will help you charge up for the day.
2. Be healthy, and by healthy it means to be disease-free.
3.One should keep updating her knowledge of her surroundings. This will boost her confidence to communicate with people.
4. Companionship is important. Be in touch with people. Sharing lives with people helps in maintaining the emotional quotient of the individual to ensure the mental and emotional health of a being.
Me: Wooo, this was an eye-opener. Being a homemaker is looked down upon these days. How do you advise them to maintain their calm and also balance their responsibilities and roles?
Veena: Every person wants different things in life, and it's wrong to demean other person's desires and goals. One has to be clear about what they want. Everyone must know that goal of all goals is happiness. We all want to achieve one thing or the other in life only to be happy.
I always emphasize it to all women to be assertive. Stand on your grounds with courage without getting aggressive or seeming revolting. And, for that, you have to be internally stable which comes from meditation. Meditation trains your mind to be calm and energizes your being with power and poise to withstand any difficulties in life. But, one should not be selfish.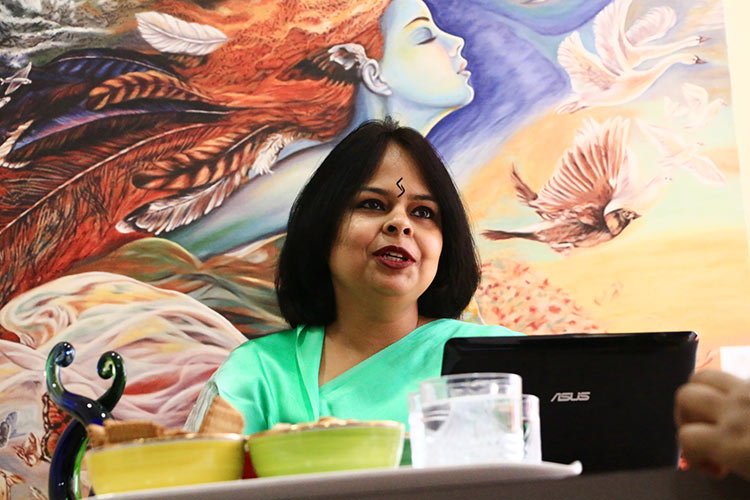 So, it's vital for every housewife to understand the nature and importance of interpersonal relationships. One has to sacrifice to nurture their relationship. But one must know how important that relation is to her. A woman should never think of her sacrifice as a favor. She must realize that she's sacrificing not for anyone else but because she wants to sustain that relationship to be happy.
Also, she must bear it in mind, that it's impossible to please everyone. What is Ideal is not Real.
Me (claps): It was very enlightening. As an image consultant, tell us some basic first meeting/interview etiquettes everyone should know of.
Veena: I call it the rule of ABC: A stands for Appearance, B for Behaviour, and C for Communication. One has to be formally dressed and well-groomed as it's the impressionist world. Under behavior, one must know how firmly to shake hands; seek permission to sit, body language aesthetics should be present, etc. The communication is the trickiest. The person going for his/her first interview or meeting should be first a good listener. If you listen and then speak, the chances of cracking the deal or interview are better and higher.
Me: True that! We have seen that it's still a taboo in the professional industry to have a tattoo. Why? And has the scenario changed?
Veena: Sadly, it still hasn't changed completely. It takes much time to break stereotypes. It's in the mindset of people that 'Acchhe ghar ke ladke ladkiya tattoo nahi karwate'. But, it has no basis. The performance of the employee should matter. This is his or her personal choice. It gives you the freedom to be who you are and in no way affects your professionalism.
Me: Tell us some ways how men and women can ditch the old formal dressing.
Veena (laughs): For girls, there are a lot of options. Along with the sarees, salwar kameez, & the business suits, Short Kurtis with trousers is being accepted as formal dressing.
But, unfortunately, boys have a limited choice. They can surely play with the colored ties or the printed ties. Also, they can demand to be semi-formally dressed at least once a week.
To all boys—'Tilliiii Lilliii' *sticking out my tongue*
Me: Okay, last question, your advice to women.
Veena: Do not have any expectations. Give your cent percent and know that it's the best you can give and praise yourselves. Don't expect anyone else to thank you because no one does and no one will. More importantly, don't consider you Abla Naari. If you have the grit, no one can stop you. The sky is the limit. Soar as high as you want. And, please enjoy your lives to the fullest.
It was an enriching experience for me. I stepped out with more positive and assertive attitude towards life. In my mind repeated,
"Let go of what holds you back, let your soul find its way; for that's where the treasure belongs. Treasure that is your happiness."
If you want to consult Dr. Veena Arora, you may contact her on 9828527465.